Tarragon Sauce

For Basic Veal Cutlets
Tarragon sauce is a cream based sauce using the drippings from the pan that veal was cooked in.
Taragon is an eastern European plant of the wormwood genus (Artemisia Dracunculus), whose aromatic leaves are used for a vinegar type flavoring in foods.
This herb is used in highly acclaimed French Bernaise Sauce that you see on the menu of every great steak house in the country.
While this sauce seems to have a lot of appeal, Gram is the only one in our family who has prepared and served the sauce with veal cutlet.
While we enjoy a bit of vinegar flavor we prefer to keep it on the side rather than garnishing the plate.
Heat will intensify the flavor.
You can also substitute chervil, a dash of fennel seed or anise seed when preparing the sauce, but it will not be as flavorful as when using herb itself.
If you are really into using fresh herbs for your sauces, you can freeze the fresh sprigs for up to 5 months using them right out of the freezer.
We would be delighted to hear from you when you prepare and serve this sauce with your meals.
Serving a sauce of this nature appears to be natural substitute in a cusine that lends itself well with more acidic foods.
What is your spin? Let us know below.

Tarragon Sauce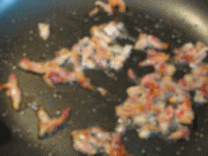 ---
Ingredients
2 Tablespoons of drippings from fried veal
2 1/2 pint of heavy cream
2 Salt
2 Pepper
2 Taragon (to taste)
---
Preparation
Simmer all ingredients until mixture thickens. Pour over basic veal cutlets.
Tip
Serve Hot. 
Find more Recipes in our reference library. 

Return to Easy Everyday Cooking Recipes.
Have a story to tell about a recipe?
Do you have a great story about one of your recipes or it's creation? Share it!

We want to hear from you.