Angel Hair Pasta
Oily Pasta certainly would not be the name I would call a delicious meal, but for many years my mother-in-law prepared this meal for her husband and being the gratious son-in-law would eat every bit.
I remember my father telling me stories of what he ate when he was young, so this falls into the category of making due with what you have and being thankful for at least something to eat.
When I was small, my father would tell me about having to heat fat for lunch as that was all he could afford.  It wasn't until both my parents were working that we could eat something more than oatmeal and spaghetti.
When I was attending college, the amount of money I had for food amounted to about two dollars a day so I only ate once a day until I completed college and advanced in my position in work.  
When I met my wife, I was introduced to many great and tasty Italian meals and one was this meal that my father-in-law loved.
As for me, I prefer tomato sauce on my dish, but then I'll eat just about anything and did when my mother-in-law put it in front of me.
My mother-in-law called it "Oliolio", translation... Olive Oil Angel Hair!
However, in our quest to find meals that are traditional and tasty, we found a bit more information and cooked up a meal or two.
So, after you have tried this recipe, select Aglio e Olio from our menu.

Oily Pasta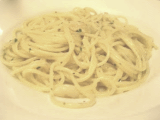 ---
Ingredients
1/2 lb Angel Hair pick your favorite)
4 Oz Light Extra Virgin Olive Oil (pick your favorite brand)
Salt
Pepper
1 Clove Garlic, peeled and chopped
---
Preparation
In a large fry pan, pour the Olive oil.
Add salt and pepper to taste. Add the garlic and heat on medium. Do not let it burn!
In a large cooking pot, add cold water, a tablespoon Olive oil and heat until boiling.
Cook the Angel Hair until "aldente`."
Drain the Angel Hair and put in the fry pan, toss and continue to heat until the oil has coated the Angel Hair.
When mixed thoroughly, serve hot.
Tips
Drain well.
Add grated Parmesan cheese for added flavor.
Serve with Gram's Grilled Cheese bread.
Top with Sausage and peppers or Grilled Chicken and peppers.
Serve this dish with Gram's Grilled Cheese Bread! 

Return to Easy Everyday Cooking recipes from Oily Pasta.