Ricotta Gnocchi - 
If at first you don't succeed at making it 

Try and Try Again!
Gnocchi was always a treat when my mother was alive as she would make it once every three months.
We all loved the taste and when the meal was finished, there was nothing left, so it had to be good, right?
Mom had me thinking these were difficult to make and it always seemed that way.
Maybe it was because we always saw the linen towels on the counter for so long...
However, after she passed I made it a point to make them for my father.
What I found was they are simple and easy to put together, albeit a bit messy.
While these are messy to make, they are a delight to eat.
When done right (you get into a rhythm) they are better than any we have enjoyed in any Italian restaurant on the east coast.
So my advice is to make them often since your environment can prove challenging.
All my best.... Chris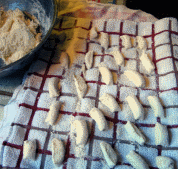 Ricotta Gnocchi
---
Ingredients
2 Lb ricotta cheese (whole milk or part skim)
3 eggs
2 cups flour (may need to add another 1/2 cup)
pinch of salt
4 Quarts boiling water
---
Preparation
Mix ricotta cheese and eggs together with salt until blended. Gradually add flour until soft dough forms.
The dough should be firm enough to roll into a long sausage like roll, adding flour as needed.
Once the dough is formed, use a well floured board and roll the dough into a long sausage like form.
Cut the roll into 1-2 inch pieces and put aside on a well floured linen towel (can be left covered up to 6 hours).
Boil water in a six quart pan on top of stove.
When water comes to a rolling boil drop the dough into the water. Stir frequently.
When the dough rises to the top of the boiling water check for donenes by removing one and tasting.
The txture should be soft but not mushy.
Usually takes 10 to 15 minutes.
When done, drain into a collander.
Serve with home made tomato sauce and grated cheese.
Serving Tips:
Important to note: terry cloth towels absorb too much moisture so use linen.
Parmesan cheese has a more normal cheese flavor and is preferred by most who enjoy this meal. However, Pecorino grated cheese gives your palate a chance to taste the ricotta. 
Find Linen Towels and other Kitchen tools here... 

Find Ricotta Gnocchi and More Italian Recipes. 

What goes great with Gnocch? Learn how to select the best one. 

Return to Easy Everyday Cooking Recipes from Gnocchi.