Beef Stew - It's Whats for Dinner!
Beef Stew is a great meal that lends itself to crock pot cooking. As one would say it is a set it and forget type meal that only needs an occasional eye.
What we like most about this stew is that it does not use stew beef, so it costs a bit more.
We feel is has much greater flavor, however if you like stew beef, use it. Easy Everyday Cooking Recipes is all about you.
You can use stew beef or Venison and make it a Venison stew, but that depends on the flavor you desire. Venison has a strong taste, but if that is what you like, go for it. With the vegetables you get your protein and carbohydrates in a tasty dish.
We recommend using a Nesco Roaster because it is so versatile. They come in various sizes to fit your budget or the size of the meal you wish to prepare.
We have a 4 quart model and a 6 quart model. Both are great but because we like to have left-overs we use the 6 quart model more often.
If you don't have a Nesco roaster and wish to pick one up you can find it on Amazon, but if you purchase one, from our site your purchase will help defray the cost of keeping the site up and free to all who visit. Stew is an excellent meal to cook in the Nesco.
We use Amazon because they are quite reliable and have a decent return policy, and besides, you can find most anything and delivery is pretty much to your door at a reasonable price.
Enjoy our BeefStew. Chris always does a great job with it and so will you.


BeefStew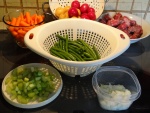 ---
Ingredients:
2 lbs sirloin tips
1 bag fresh baby carrots
3 stalks celery
1 lb 8 oz bag of baby potatoes (red or golden )
1 bag of fresh green beans ( 12 oz )
1 packet McCormick Beef gravy mix
½ tsp of salt
½ tsp of black pepper
---
Beef Stew - It's What is for dinner on cool nights!
Use a crock pot or Nesco Roaster and heat to 250 degrees

Preparation:

Prepare Beef gravy mix by adding water, blending and pour into bottom of crock pot or Nesco roaster.
Cut sirloin tips into 1 – 11/2 inch pieces removing any excess fat and add to crock pot or roaster.
Wash baby carrots colander.
Peel and cut potatoes then wash.
Cut celery into small ½ inch pieces.
Wash fresh green beans or use a bag of Italian Style Green Beans (frozen).
Place all vegetables into crock pot or roaster.
Add 1 ½ cups of water then stir.
Cover Nesco and let cook for 3 to 4 hours.
Test beef to check for desired tenderness. The beef should be tender and you should be able to cut it with a fork.
Serve with rolls, fresh italian or french bread. Serves 6 to 8.
Serve this with your BeefStew and receive rave reviews!

Return to Easy Everyday Cooking Recipes from Beef Stew.