Taormina Italian Restaurant
Taormina for those who know geography is a comune and small town on the east coast of the island of Sicily, Italy.
It lies in the province of Messina, about halfway between Messina and Catania.
Taormina Italy, has been a very popular tourist destination since the 19th century with popular beaches that are accessible by an aerial tramway on the Ionian sea.
While we could speak to the culture of this Italian village, this page is about a remarkable restaurant in Peek skill, NY, by the Hudson River waterfront with the same name.
You can get there by car as it is just off route 9a or take the train as there is a stop in Peek skill, NY, close to the Hudson river, which at that point is a 2 minute walk to the restaurant.

How we arrived there was not by accident. Chris and I have family that lives in Peekskill and we took a break from working to go and visit.
From Cape Cod it is a long trip for a weekend, but none-the-less, we enjoyed the visit and ate at Taormina.
The location could not be better as Peekskill is very hilly. We arrived just at 6:15 p.m. and the place was already busy. Old wood style seating and dimly lit.
The food was great!. The wait staff, almost too attentive, provided everything we needed.
Chris and I eat Italian all the time, but this time we both opted for filet with a side of pasta.
We were not disappointed. The filet was done to perfection! Our pasta was aldente'.
Home made bread, olive oil dipping sauce and great company was what we had.
Chris had a side of fettucine that was creamy with a mild cheese flavor.
My pasta was a more traditional penne with a tomato sauce.
The sauce was a little thin for my taste, but still a great flavor as like we have discovered, each region in Italy prepares and cooks Italian food a different way, which is why Italian food, while so alike, is so different.
Our guests had fresh fish and shrimp, and from the amount of conversation we had once the main courses made it to our table, must have been outstanding as we all just ate until we had to take a breath.
The restaurant has a fine variety of pasta, chicken veal and seafood.
For example, the menu beams with:
Chicken Marsala
Chicken Scarpariello
Chicken Valdostana
Chicken Parmigana
to name a few as well as
Veal Marsala
Veal Parmigiana
Veal Francese
and their signature Veal Taormina.
Given the amount of families and couples in the restaurant, it is a little slice of Italy with a large following. And who could forget the romance.....
After dinner, we strolled down to the park along side the Hudson River and saw a spectacular sunset. Yeah, we know, where's the spectacular sunset?
You'll have to take our word for it. All we had was a cell phone so here is the best one...
Don't let this poor picture deter you from dining there...
Make it a point to eat at this Italian restaurant while your are in Peekskill, NY. We do believe you too will enjoy.
John and Chris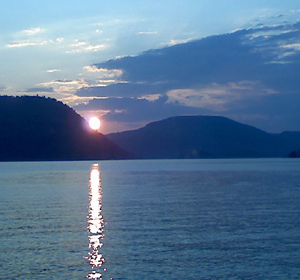 Return from Taromina to Easy-Everyday-Cooking-Recipes.