Where is the best place to taste Everyday Italian Cooking Recipes?
You guessed it... Your Kitchen! Yes, Italian cooking recipes can simulate the rich and varied heritage Italians have and can bring delightful meals you can call your own.
Everyday you can thank Italian cooking recipes for bringing your family home to eat rather than eating out. Don't think so, think again?
For over 33+ years my husband came home to eat, or ate an Italian recipe that I cooked before he left for his avocation as a citizen soldier. Here's why....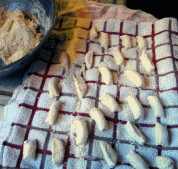 Italian Cooking Recipes - The reasons why...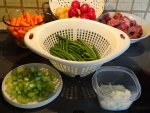 And this is just scratching the surface!
Everyday Italian cooking dishes are not exclusive of any mediterrainian vegetable or meat.
They include meat and vegetable entrees, one-dish specialty meals and time-saver casseroles for the busy family, and most can be accomplished inside 1-hour!
The great thing about Italian cooking is that Italy is one among countries that have a diversified cuisine because one region is practically foreign to the other.
But this is going by the way side due to technology so those of us living in other countries can experience the regions without leaving our homes.
Italy, with a variety of speech, food, and customs, makes preparing easy dinners a snap!
As you will see, the Italian dishes contained in Easy-Everyday-Cooking-Recipes have been time-tested and are ideal for:
outdoor dining
intimate dinners
large family gatherings
You will become the most popular family chef where everyone will be asking for seconds!
Return to Easy Everyday Cooking Recipes from Italian Cooking recipes.