Start The New Year With
HoppinJohn!

HoppinJohn (Hoppin' John)

Wow, if I heard that phrase once I heard it a hundred times from friends around the country... Why don't you have Hoppin John on your web site?
Have what?

When I checked my new cooking calendar, lo and behold, there it was!  A miracle, or what?  
What is HoppinJohn or Hoppin' John? 
In short, this is a southern dish that as tradition holds, if you eat black-eyed peas they will bring you luck in the coming year.  

And who doesn't want some luck?
I do, although I have found we are in charge of our own destiny, luck should not be in the equation, right? 
But hey, what do I know, when a tradition has been around for years and does not hurt why not give it a try?

It has eclipsed generations, so why not believe?

Those who have treated themselves to this recipe swear by its good luck fortune.  
Whether you believe in luck or not, this tasty bean and rice dish, (and it has a gazillion variations), is best prepared a day in advance so all the flavors mature and spring into action when you chow down.  

Luck or not, give it a try, you just might like it.

Here's to bringing you good luck and fortune in the coming new year.

 (Hoppin') John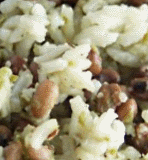 ---
Ingredients:
2 cups cooked brown rice (or your favorite white or rice pilaf)
4 slices bacon
1 lb cooked smoked ham diced
1 (15 oz) can black-eyed peas, drained
1/2 cup diced onion, sauteed
1/4 cup diced celery, sauteed
1 tsp garlic powder
1 tsp onion powder
1 tsp cayenne pepper or 1 tsp hot sauce (optional)
1 tablespoon chopped fresh thyme or 1 teaspoon dried
2 tablespoons butter
---
Preparation
Preheat oven to 350 degrees F
Dice ham and place in a small bowl.
Cook bacon until crisp but not burned, drain liquid leaving some to sautee onion and celery.
Dice onion and celery and simmer in small pan adding garlic and onion power when soft.
Add thyme and mix well.
Add your peas or black beans and warm to taste
Prepare your rice and cook to taste. If you are using brown rice cook until tender and season with salt and pepper to taste.
If you like it hot, add the cayenne pepper or hot sauce. Add ham and peas to onion/celery and mix well then mix with rice in a baking dish.
Place mixture in oven and cook for 20 min covered
Remove from oven and toss with 2 tablespoons butter.
Serve and Enjoy!
Tip
Have enough leftover? Reheat in the oven at 275 degrees F.
Find more cook books with HoppinJohn or other great recipes .

Return from Hoppin John to Easy-Everyday-Cooking-Recipes.