Here's an Apple Bread
To Search For!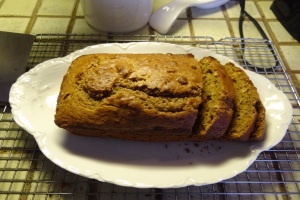 Apple Bread, pastry, pie... a lot of work with special ingredients can be over whelming to the everyday cook of the family.
And unless you are a trained pastry chef with a grand kitchen, we easy everyday cooking chefs are at a great disadvantage involving the taking raw ingredients and making a great bread.

Fear no more because a specialty market has given you all the advantage of gathering special ingredients and most of all, the "how-to" in making a fantastic AppleBread!

In fact, you won't be able to resist the smell of apples and cinnamon when you prepare this bread right in your own kitchen.
When mixing, the cinnamon, clove and allspice pops right into the air making your brain tell your mouth to water!
In addition, you can add a caramel sauce to really make it rage with flavor bringing home your favorite childhood memories of caramel apples...
And while I could go on an on about what triggers fond memories of food,

Here is what you need....

1 box Trader Joes Spiced Apple Bread Mix
1 Glass 8x4 Loaf Baking Dish
2-Large Eggs
½ Stick Melted Butter (4 tbsp)
1 Cup 2% Reduced Fat Milk
1 -350 degree Oven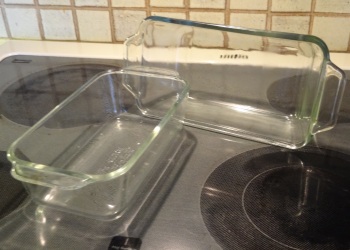 Now the box comes with full instructions on making a bread, or if you prefer, muffins. Either way, the end result is a perfect taste sensation.
One notable item is, use butter to lightly grease the glass loaf dish. We have noticed when using cooking spray there is a definite taste difference.
If you know Trader Joe's, they carry specialty items that take the everyday home cooked meal and turn it into a gourmet meal, but gourmet or not, this Bread Mix is a real treat your whole family will enjoy.
They also have their vendors follow good manufacturing practices to segregate ingredients avoiding cross contact with allergens made on equipment that is shared with eggs, milk and tree nuts. So you have an idea as to the effort made to keep you allergy free.
Where can I find this Apple Bread Recipe mix?
If you do not have a Trader Joe's in your area, ask your specialty food store to see if they can obtain a similar mix or search below.
What we use is what we have purchased, tried and enjoyed. Not everyone will agree, but you have our word every recipe or idea that is good to us is put on our site. Not everything makes it to our site.
Please note, we are not paid to try or endorse any product or recipe.  
If you like this recipe click on our Facebook Like. And if you have a similar and would like to share, please do so using the form below.
Enjoy!

If you like AppleBread, You'll love Strawberry Shortcake Trifle

Return from Apple Bread to Easy Everyday Cooking Recipes.
Have a story to tell about a recipe?
Do you have a great story about one of your recipes or it's creation? Share it!

We want to hear from you.
Custom Search