Pork Tenderloin

The Other White Meat!
Pork Tenderloin, the other white meat, is a favorite of Chris.
Pork is a meat that can have a number of different outcomes when cooked. However, like beef,there are many different cuts that will open your eyes (and taste buds), where you will say, "hey, I like this."
This tenderloin meal is by far, very easy and a definite comfort food delight.
Tenderloin can be purchased in the market and normally come in a package of 2 tenderloins. Usually they are never frozen however they can be frozen for later use.
We use fresh vegetables with this meal as this brings out the flavors of all the ingredients more so than when using canned or frozen vegetables.
Here is what you will need...

Pork Tenderloin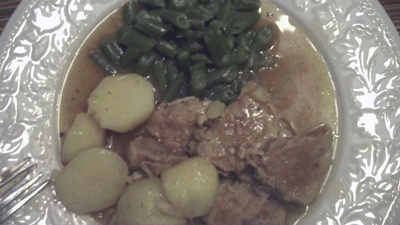 ---
Ingredients
1.5 Lbs Pork Tenderloin
1 Medium Sweet Onion
2 Table spoons butter
1/2 teaspoon Sweet basil
1/2 teaspoon Salt
1/2 teaspoon Pepper
16 oz Heinz Pork Gravy or whatever you prefer
24 oz Cold Water
8 Baby Red Potatoes
16 0z Fresh Cut Green Beans (Canned is OK but fresh is best.)
---
Preparation:
Cut tenderloin into medallions (opposite the grain).
Chop onion into quarter inch pieces and separate.
In an electric skillet or stove top frying pan, heat the butter so it melts to cover the bottom of the pan.
Saute the onion until it sweats.
Add tenderloin, sweet basil, salt and pepper and saute until each side is golden brown with the onion.
Add one jar of pork gravy and 2 jar (16 ounces) of water, stir in pan.
Let simmer at 225 degrees until until the liquid is slightly thick, stirring meat, turning over each side of pork.
Peel and wash the red potatoes and cut into quarters.
Clean up, watch TV, read a book or whatever for 1 hour checking and stirring the mixture so that it does not burn.
Add Potatoes, water and additional 8 ounces of gravy and water. Cook for half hour.
Open can of green beans and cook separately.
When beans are heated, serve the meal.
Serves 6.
Tips:
Always rinse meats prior to cooking.
Trim the fat and muscle tissue as much as possible.
Always wash your utensils when switching between food types.
For more flavor, add more onion. and garlic to taste.
Great reheated (if any is left).
Serve a side of Fettuccine with this dish.
Get yourself a great skillet to prepare your meals here!

Return to Easy Everyday Cooking Recipes.