Parmesan Panko Crusted Cod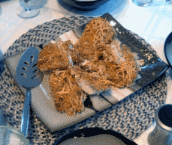 Parmesan Panko Crusted Cod recipe is a great way to introduce fish into your diet as well as to your children.
We've all heard about Parmesan Crusted Chicken and if you have tried it know what a mouth-watering delight it is.
While it sounds complicated, it is a relatively easy recipe to make.
And while lemon pepper Cod is easy to cook and tastes great, we decided to try this recipe with fresh Cod and, to our surprise loved it.
Here on Cape Cod we get some of the freshest sea food, so if you have a market that brings in fresh fish get yourself a couple pounds and have a mouth-watering delight!
The other alternative is, if you love to fish and go deep sea fishing, catch a couple of keepers, fillet them and serve them up with this recipe.
In this recipe we purchased 2 pounds of fresh fish fillet that was boneless. We cut the fillet into 4 sections and rinsed them in fresh cool water.
We prefer to bake fish because it is easier to clean up afterword. 
Try it then let us know what you think.
John & Chris
Parmesan Panko Crusted Cod
---
Ingredients:
4 8 ounce Fresh Cod Fillets, No scales bones or skin.
Salt and Pepper to taste
½ Cup Grated Parmesan Cheese (We love Parmesan-Romano but use what you like)
½ Cup Italian Style Panko Bread Crumbs (Plain is good too)
½ Cup Mayonnaise (Or enough to coat the fillets)
4 Table Spoons Olive Oil
1 Table Spoon Butter
---
Preparation:
Preheat your oven to 375 degrees.
Rinse the fillets in cold water then salt and pepper to taste.
Grease the bottom of your glass baking dish with the butter.
Put your olive oil in a glass baking dish and evenly coat the bottom
Then let the fish set in a glass baking dish.
Combine the cheese and bread crumbs in a small bowl
Brush mayonnaise on the top of the fillets.
Spoon or brush the cheese and bread crumb mixture on the fillets coating completely.
Place in the oven for 25 mins or until flaking.
Serve Hot.
Serves 4-6
Tips:
Serve Hot.
Use more mayonnaise for moist yet crispy bread crumbs.
Left overs, reheat in microwave covered and in a little water.
Use a bit of lemon juice if the fish was frozen prior to preparing.
Thin your fillet if too thick at one end of the fillet.
Top with small butter slices prior to baking for a buttery flavor.
Don't like Cod?  This recipe is good with any fish if you are not crazy about Parmesan Panko Crusted Cod.
Serve with some of your favorite fresh vegetables.

We enjoy Broccoli, Carrots, and Parsley Potatoes.
Search for other recipes below.
Custom Search
Return to Easy-Everyday-Cooking-Recipes from Parmesan-Panko-Crusted-Cod.
Have a story to tell about a recipe?
Do you have a great story about one of your recipes or it's creation? Share it!

We want to hear from you.