Aglio e Olio
A Traditional Italian
Pasta Dish
Aglio e Olio or "oilypasta" as we non-Italians call it is a traditional Italian dish that is attributed to its origin in the region of Abruzzo.
The region, which is considered isolated, is what could be called poverty-stricken due to its location.  That aside, this dish does represent an interesting way to eat pasta without a lot of sauces and if you have a spicy taste sensation adding the hot peppers will not only may your mouth water but your eyes too.

Aglio e Olio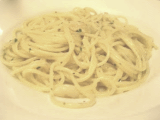 Normally made with the fettuccine noodle, this pasta dish is very easy to prepare.  It can however be made with any spaghetti.  
There is no need for fancy noodle shapes to make this dish work.
Remember, if you do not make your pasta dough yourself, the market is always teaming with a variety of noodles.  Use what you have at home first.

We have seen this dish in a few Italian restaurants.  On Cape Cod we have found a 72 year young third generation restaurant that serves it, but with many other traditional Italian dishes that are just mouth watering.
The ingredients are what gives this dish its popularity around the world.
None of the flavors can hide within the dish and while there are those who can tolerate heat, the red chili pepper seasoning is basically to taste so use on the side of conservatism at first.
Bon Appetit!

---
Ingredients
1 lb Your Favorite pasta or Fettucine noodles
1 Tbs Dried red Chili peppers
1/2 Tsp Parsley, fresh and chopped (add as a garnish)
1 Tbs Garlic, minced
1 Tomato, Plum type, chopped, small (optional)
2 Oz. Extra Virgin Olive Oil (You may need more oil depending on the type of noodles)
Grated Parmesan or Romano cheese

---
Preparation
Boil water and add a tablespoon olive oil to water. Add pasta and cook until aldente`. Drain.
Saute the garlic in the olive oil until hot.
Add half the dried red Chili peppers to the olive oil. Add pasta to oil turning to coat the noodle entirely. Reduce heat and continue to turn until all noodles are coated evenly and hot.
Serve out of the pan to plate adding some dried red pepper and grated cheese then toss until all is coated. Garnish with parsley.
Tips:
Serve hot!
Drain pasta well.
Add grated Parmesan cheese for added flavor.
Serve with Gram's Cheese bread.
Can also top with Sausage, chicken or veal.
After perfecting the blend of olive oil, garlic and pepper, you may want to try the tomato as an additional ingredient for a different flavor either cooking in the oil or as a garnish.
In addition, cleansing your palate is always recommended which is why wine or another type of drink is served when dining out.
If your taste is not wine and are preparing this meal at home, you also might enjoy a refreshing drink that not only cleanses the palate but is also good for you, learn How to Make Smoothies. A refreshing way to eat and drink. 
After a very unique meal, top it off with Currie's Strawberry Shortcake Trifle.  It will certainly waken the "Kid" in you.
Make your own Aglio e Olio pasta.

Find more Italian Pasta Recipes.
Return to Easy Everyday Cooking Recipes from Aglio.

Custom Search